June is on it's way ...
June used to be a big wedding month, but may be loosing it's popularity.
It's still on my mind - so I've been checking out weddings.
I love the

mismatch bridesmaid dresses.
I love the look, but it's also great for those girls that are hard to fit (and I know a little bit about that!).
Check out the info at
Green Wedding Shoes
This look is from
Easy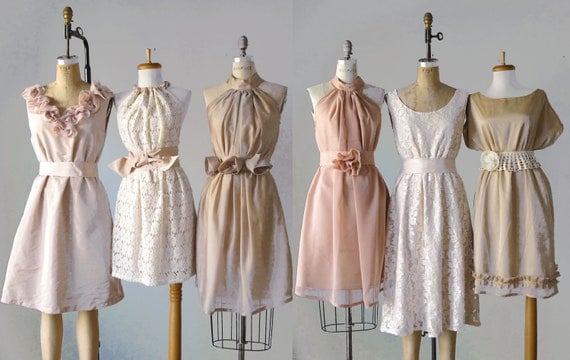 Love patterned fabric too! Like this from
Blissful Whimsy Events
Sometimes we worry about getting too many patterns in one place, but I love this look. The solid white flower bouquets seem perfect here.
There are several other photos
there
too, check it out.
and check out
The Natural Wedding Company
for looks like this one.
I've shown a few in the past -
Colors
shows about 4 looks I love.
There is also one
here
, and
here
.
And a couple more further down on this post, in the Fiesta Mexican Wedding info.
----------------------------------------------
Ombre
It's a funny word, but a fun look.
Purple ombre cakes like this, from
Wedding Cake Pictures,
and more ombre
here
.
Ombre chandeliers from
Bravo Bride
There are more great ombre looks at
Green Wedding Shoes
and
3D-Memoirs
.
Other ombre looks I've seen include a cake, backdrop and more
here
, and individual cakes
here
,
----------------------------------------------
Do you know what a Billy Button is?
I've known the look, but not the name. They are those little round yellow flower balls.
Maybe I'll remember the name, but I will definitely remember the look - it's one I enjoy.
Another name for them is craspedia - that doesn't sound as fun though, and I'll certainly not remember it.
Billy Buttons are so fun!
Here is one look from
Stephmodo
(there are a couple more there too).
You'll find a few at
Green Wedding Shoes
You'll see them in this bouquet
here
, and a couple
here
, and
here
, and in this wedding
here
, and you could make your own like the look in
this post
(10 pictures down).
----------------------------------------------
Do ya love feathers?
Green Wedding Shoes
has some ideas for you if you do.
A feather bouquet from
Pink Tea Rose Events
Check out
Emmaline Bride
and
Ruffled
for more feathered weddings.
----------------------------------------------
Fiesta / Mexican Style Weddings
here
This and other boards at
Pixel & Ink
Oh my! Look at this! Beautiful work! From Mexconnect
Table décor (and more)from here
and from
here
Great banner called
papel picado banners
in bright colors here
or white
here
(several in color here too)
and this cute bunting for a cake
from a great pinterest board
How about piñatas? Like these here
(
other great looks here too)
Check out Burnetts Boards and Every Last Detail for more South of the Border ideas.
----------------------------------------------
Coming soon:
Boho Weddings
Nautical Weddings
Vintage Weddings
Holiday / Seasonal Weddings
More ...
Save
Save
Save
Save
Save
Save