I found this idea on pinterest a few days ago and thought it was worthy of note.
A door muffler for keeping things quite while your baby is sleeping - or in my case while my husband is sleeping.
Sometimes it is the turning of the knob and opening the door that is loudest when peeking in on them or going into the room they are in for something you need. This would certainly help reduce that noise.
I feel so terrible when I wake him up like that.
Now I need a muffle for my dishes as I wash them ... ya, right!
I just don't wash them. ;)
That is to mean, I try not to wash them while he is sleeping.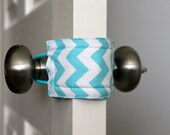 It looks like these things were being sold on Etsy.
There are so many cute things and ideas available, but I'm kinda out of the baby stage (

at least on the daily basis, like I was when all my kids were small and under foot

). My how times change!