"A pantry is a room where food, provisions, dishes, or linens are stored and served in an ancillary capacity to the kitchen." (
here
)
I have a pantry!
My pantry is located in my dining room, behind these closet doors.
Open them to find the food and ... stuff ..., kitchen stuff.
I don't label my shelves because I think everything is visible enough to know what it is, and I sometimes change things around a bit. I do make it known that when you stock the pantry (or any of my cupboards) you turn the can to show the front forward - you gotta see what's in the can without touching it.
This wasn't enough room for our large family so we had to find another place to store things too. Many years ago we gave up one wall in our play room (just around the corner from the kitchen) for a row of cupboards.
It's nothing fancy, but I don't need fancy as much as I need storage.
(I think the three center units were from Costco and the two units on the ends were from Wal-Mart.)
You can see that I still need extra space for things (especially empty jars), so I've stored them up above the cupboards. I'll try to do something nicer with those boxes. ick huh! Too bad my cupboards don't go all the way to the ceiling like these in this next photo.
Here is a lovely option for a built in pantry from
Content in a Cottage
---
My food storage space is sufficient, in fact, with fewer people living here now it's quite adequate. However, I have acquired many other items that seem to need space too. I've had 5 sons marry and have purchased things for each of those weddings that I am storing. I'm sure I'll buy more for the next 4 children's weddings too, so I need more storage space. I'm sure the bedrooms will free up, but for now, I'm still stuffed. So I'm dreaming ....
I love a good storage room, and for the things that belong in a kitchen, a bigger pantry would be wonderful. How about a butlers pantry?
"A

butler's pantry

or

serving pantry

is a utility room in a large house, primarily used to store serving items, rather than food.

Traditionally, a butler's pantry was used for storage, cleaning and counting of silver; European butlers often slept in the pantry, as their job was to keep the silver under lock and key." (
here
)
Ya, a butler's pantry, complete with butler, don't ya think!
Not gonna happen!
The butler nor the butler's pantry.
But I can still drool over them! Oh, that doesn't sound very lovely - I'll just look at and admire them!
Butler's Pantry from
Content in a Cottage
ahhh! sigh!
---
Oh Yes! ... a China Closet! ;) It's a great walk in closet.
There is so much to see from
Habitually Chic
I can only imagine a lovely room like ..., well, like any of these butler's pantries.
I have my own stuff to fill it, but the shelves here look wonderful. What fun I would have filling them. ;)
Hidden away, but lovely as ever.
Table cloths rolled up look so lovely here.
Though it seems to take up a lot of vertical space it keeps them wrinkle free, and that is awesome.
---
I've always loved a rolling ladder in a library, but how about one in a pantry or kitchen? Awesome!
This and other great butlers pantries from
Houzz
---
Several more butlers pantries can be seen at
The Enchanted Home
I showed an awesome hideaway
here
- and it is really awesome.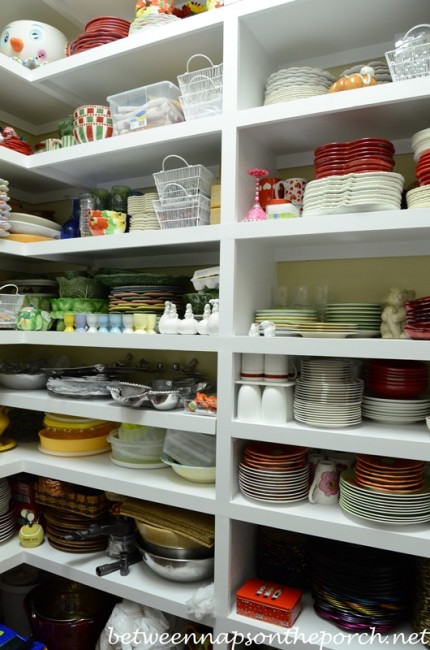 ---
I think I have too much stuff to put somewhere. My husband knows that I have too much stuff.
I should show him these next few pictures of stuff and maybe he will be okay with my stuff.
Take a look at
Entertaining Women
This is only a very small portion of her stuff. She shows us where she puts her stuff, so check it out.
Love that stuff huh!
I wonder if she has dust like we have dust! I hope not! Even behind closed doors the dust accumulates and it needs cleaned on occasion. That would be quite a task here.
---
Now let's take a look at
Monkeybox.
Her stuff is Christmas stuff..., and stuffed it is.
Did you click into and look at those last two sites? Lotsa stuff huh!
---
Just thinkin' ...
I wonder what my kids will do with all my stuff when I'm gone
....?
Save
Save