Fabric Remnants can hang around for a long time if you can't think of what to do with them. Sometimes it seems that throwing them away would be a good choice. Here are a few ideas I came across and thought I'd save for a rainy day - just in case I need help remembering what to do with all of my scraps.
Check out the ideas from
ideas
- their ideas include:
wrap gifts

make gift tags

--
Another idea - a most intriguing idea I have never seen till now - drawer pulls - made with fabric scraps. I think they are pretty cute! From
Anna Maria
--
A hand bag is another idea - patch together some pieces and then create a bag like this from
Crafterholic
.
--
Tipnut
has a post with 50 ideas for using fabric scraps.
--
Another post from
Tipnut
shares 40 fabric flowers to make.
--
Babble
shares 25 things to do with fabric scraps -
one of them is a bunting, so of course, that caught my eye.
another idea was a necklace.
--
One idea from
The Art of Homemaking
shares a fabric wreath.
--
I have seen and created my own paper covered clothes pins, but here are some fabric covered pins - sure wouldn't take a very large piece of fabric. Maybe we should keep some clothes pins on hand to make up some of these with the tiny scraps after our sewing projects are done. Collect them in a pretty glass bowl or vase or bottle and give an assortment for gifts when the need arises.
These are from
etsy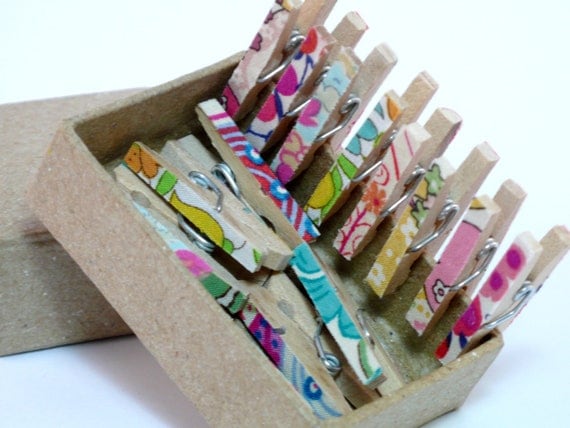 --
Decorate your gift cards like these from
Art and Blog
.
These could be hearts, stars, flowers, or bear shapes, or any outline shape including a simple circle. How about a men's tie for Father's Day?
--
Personalize a picture frame with scraps of fabric like this from
Moda Bake Shop
--
Or, leave the frame as it is and decorate the inside of the back board like this from
Little Big Town Designs
--