Lovely Lace ... Lovely Dresses ... Lovely Cloths ... Lovely Weddings ...
I love this dress - the fabric falls so softly.
From
Lauren Elizabeth
I also like the color of his suit.
--
This lace look is from here
--
This lovely lace dress is from
Utah Bride
(photo #5)
... and this one is photo #8 ... so lace, but ...
This dress intrigues me because it looks so simple and yet lovely in it's own way. I would love to see this with a fabric that is soft and flowing, and with a long sleeve - for some reason I love to see a long sleeve on a wedding dress. They are hard to come by now days.
---
Here is a long sleeve.
However, I sometimes have a hard time with a see thru sleeve like this

(I'm kinda different that way - just me!)

, but would love to see it with a white fabric underlay.
Several dresses , including this one, can be seen at

Wedding Ideas

.
---
I found this on google, and would love to see a better view of the dress.
---
---
This wedding used baby's breathe for their bouquets and flower arrangements. Simply Beautiful!
---
More great dresses can be found
here
- maybe you want a winter cloak?
---
This is very pretty - seen at pinterest
---
I do love a softly flowing or falling fabric verses a stiff and starchy feel. Alixann Loosle Photography
Notice the lace on this awesome woodsy backdrop.
---
Lace is beautiful, and here is a table done up in lace and twine. From BBurkey Photographpy.
---
Love a lace look ...
Lovely over this mint / aqua color - from Decorating with Lace Outlet.
I think it's a quilt under that lace, and I love quilts as cloths too.
---
Another lace cloth over brown or kraft color cloth
From Ali Express
---
---
Dainty doilies sewn onto a
cloth for a lovely look - from ideas.
Learn how to tea stain them for a lovely vintage appearance.
---
Another lace or doily cloth from here
However, the one single dark color throws me off.
---
Lace is always a lovely elegant look, no matter where it is used. From OneWed
---
I love a pretty lace tablecloth, like this from Pinterest
---
how about on a chair like this from here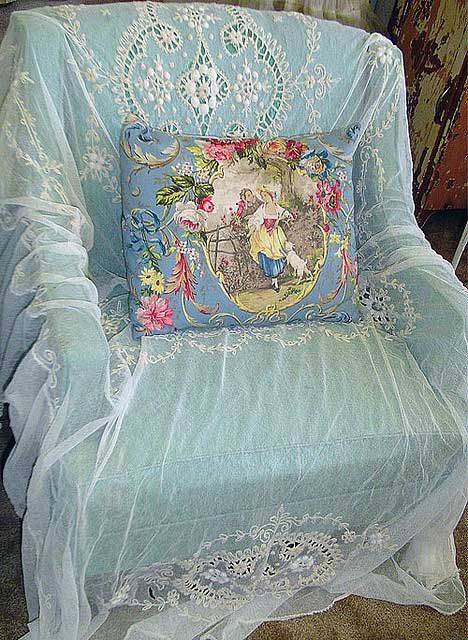 ---
Here is one more cloth, hanging up to see how beautiful it is, but it looks like it could be a lovely backdrop for something.
---
Now, some lovely shoes ..., or socks ..., or foot wear from
here
.
I am a gal who loves to go bare foot, and these would be awesome under a wedding dress or ....
I love these!
---
I think I'll end with an announcement - a beautiful lace announcement from here